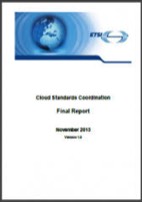 The
final report from ETSI's Cloud Standards Coordination
initiative was made public on December 11,2013 in Brussels.

The report was delivered at an event jointly organized between ETSI and the European Commission attended by over 100 experts from the cloud community.

"
I am pleased that ETSI launched and steered the Cloud Standards Coordination (CSC) initiative in a fully transparent and open way for all stakeholders. Today's announcement gives a lot of hope as our European Cloud Computing Strategy aims to create 2.5 million new European jobs and boost EU GDP by EUR 160 billion by 2020.
"
Neelie Kroes, European Commissioner for the Digital Agenda, December 11th, 2013.
After an analysis of major aspects of cloud computing standardization, the final Report provides:

A definition of

roles

in cloud computing;
The collection and classification of over 100 cloud computing Use Cases;

A list

of around

20 relevant organizations

in cloud computing Standardization and

a selection

of

around 150 associated documents

, Standards & Specifications as well as Reports & White Papers produced by these organizations;

A

classification of activities

that need to be undertaken by Cloud Service Customers or Cloud Service Providers over the whole Cloud Service Life-Cycle;

A

mapping

of the selected cloud computing documents (in particular Standards & Specifications) on these activities.
On top of this, conclusions regarding the status of Cloud Standardization at the time of the writing have been developed, concerning general aspects (fragmentation, etc.) and more specific topics of
Interoperability, Security & Privacy and Service Level Agreements
.
The audience for the CSC report includes

Cloud service providers who should be able to use it to understand which standards and specifications they may wish to select and apply to their services.

Cloud service customers, who should be able, from knowing the standards and specifications applied by a cloud service provider, to understand how their requirements can be covered by the current and future offerings and to have confidence in the service offering.

All sizes of cloud service providers and cloud service customers from small businesses to public procurers and multinationals.

Administrations that have to act as cloud service customer.

Governmental authorities that have to act as cloud regulators.