Work Item 2: Cloud Computing standards and Open Source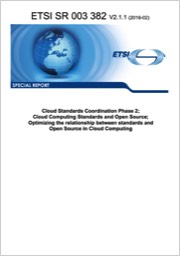 The Final Report is available
All CSC Phase 2 reports in version 1.0.0 been open for public review and many comments received until September 26. These comments have been analyzed publicly during a Final Review Workshop and the required changes agreed upon.

The final version v2.1.1 is based on this feedback.
The work done in CSC Phase 1 did not address the relationship with Open Source. However, Open Source is an important contributing element to Cloud Computing and participants to CSC Phase 1 have considered important to understand which relationship Open Source and standards may have.

The main deliverable is a specific document/report defining how standards and Open Source are interworking in the field of Cloud Computing, outline the Open Source results of interest for standardisation and identify additional challenges.